STATEMENT FROM OEA-RETIRED LEADERSHIP
With too many events targeting African Americans and most recently the murder of George Floyd, now is the time we must speak up. OEA-R stands in solidarity with those demanding changes to address these social justice issues. Many of our members have recollections of the protests in the late 60's and early 70's. We understand the need to force public conscience to "Wake up and pay attention" to issues many would rather not address. We need to wake up our nation to the issue of social justice and how many of our institutions, including education, perpetuate inequities that deprive people of color of opportunities to succeed. Remember "Silence gives permission."
As educators we believe that all forms of racism is unacceptable in whatever form of injustice, privilege, or discrimination. We must all make our voices heard in denouncing racism and educate individuals in recognizing the signs and the steps to eliminate racist practices within our social institutions as well as personal interactions. We must do everything we can to stand up for all members, all students, their families, and our communities.
Mary Binegar
OEA-R Chair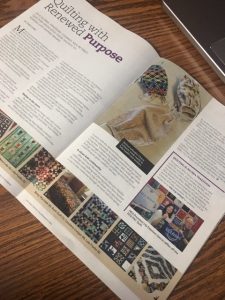 Check out the June 2020 issue of NEA Today for Retired Members! Retired Wooster EA member Lola Franks has several of her beautiful quilts displayed in the article Quilting with Renewed Purpose on pages 24-25. Great job, Lola!
Read our latest newsletter at this link:
https://conta.cc/2Me3Jtj
Read the OEA-Retired Winter Newsline at this link:
http://oea-r.ohea.us/files/2020/01/NewslineWinter-2020.pdf
OEA-Retired Fall Meeting-September 3, 2020
From the OEA-Retired Chairpersons Mary Binegar and Phil Long:
SAVE THE DATE
On behalf of the OEA-R Advisory Council, the Program and Services Committee is pleased to announce and invite you to attend the OEA-R 2020 Fall Conference at the OEA Building in Columbus on September 3, 2020. We have some very interesting sessions planned for you:
    Social Justice for Retirees
    Community Involvement
    Educational Issues affecting Retirees
    Technology for Retirees
    A special session for District Retired Chairs
    A double training session for the Action Response Team
The cost of $20 will include light breakfast, snacks, lunch, parking, and registration.
Registration information will be sent out hopefully in June when we have a better determination about the virus. We are in close communication with the OEA Leadership regarding this issue. OEA-R will not put our members in any harmful situation, but we want you to know that plans are being made and are hopeful that we will be able to meet.
All the best wishes to you and your loved ones during this very trying time. Be safe.
ECOEA Holiday Happenings Luncheon
ECOEA members and guests gathered for our annual Holiday Happenings retiree luncheon at the beautiful Pine Tree Barn in Shreve on December 3rd for good food, great conversation and an interesting STRS update from guest Rita Walters, STRS Board member. Did you know that there are 196 STRS recipients that are 100 years old or older? And, there are 125 members that are 99 years old? Our oldest STRS member is 107 years old! Wow! Holiday blessings to them all! Keep up to date with ECOEA with the monthly emailed newsletter. Not receiving the newsletter? Probably because we don't have a good email address for you. Sign up to receive the newsletter by sending your email to the ECOEA office at ecoea@sbcglobal.net
NEA Today for NEA-Retired Members seeking member stories      After a lifetime of service to our nation's public schools, members maintain a vivid interest in NEA and education policy and news and they want to keep public education strong.        We need your help telling our retired members' stories–especially those members whose presence will help to showcase the diversity of NEA retirees.      If you know of someone who would make a great interview subject for NEA Today for NEA- Retired Members, please share their contact information with the magazine's editor, Lisa Leigh.   She may be reached at lleigh@nea.org, or 202/822-7258.
~~~